Hanoi Street Food Tour
Vietnamese Street Food is one of dishes you have to eat when you go to Vietnam. A trip to this country is not complete without tasting the street food. With hundreds of food stalls around the streets, you have the chance to taste from a local delicious Pho to egg coffee, from Bun Cha to dim sum … Our professional local guide will help you to experience this great tour.
Lunch time: Start from 11: 30 – 14:30 around 4km on foot
Dinner time: Start from 18.00 to 21.00 around 4km on foot
Detailed Itinerary:
At 11.30 (or 18.00), our tour guide will welcome you at hotel lobby, then start walking tour in old quarter "36 streets" to visit some famous and specialized- food families or stalls/ local restaurants, shops where they run their business every day, certainly you will watch and taste some particular dishes (Please let us know you are vegetarian or special requirement)
The old quarter in Hanoi is over one thousand years old and today retains much of the old flavor that made the area special in earlier times, each street was the exclusive domain of one trade (guilds) so there are whole streets of blacksmiths, silver shops, paper shops, headstone makers and more. Originally there were just 36 streets in the old quarter but today there are more than 50 streets. Although many of the streets are short, and the area is rather compact. It is very difficult to find some local food on your own in hidden alleys or sidewalks, certainly the best way to make it easy is joining with us, taking part in this special tour to learn about Vietnamese cuisine, culture, people and language. After all, Vietnamese Street Food will give you an unique experience to try the foods of the local Hanoi people, We ensure the food is handled hygienically and provide a comfortable venue for the tastings. The benefit also goes back to the vendors or restaurants/ families as we buy directly from them.
Notes: Vietnamese Street Foot tour is focusing on street food stalls as well as lovely mini restaurants (not luxury restaurants), certainly they are experienced and appreciated by our local experts every day, you'll keep on ordering food as long as you keep eating, suggestion that you should taste a little bit each place, then the next.
PRICE: Your price when:
+ You are 2 persons: 35$ / person
+ You are 4 persons: 30$ / person
+ You are 6 persons: 25$ / person
Tour price includes:
English-speaking guide
Food costs
Sight-seeing tickets
Bottled water
Other tours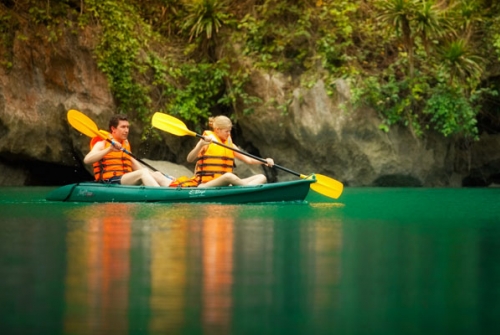 Halong Tour One Day
Halong Bay is picked up as one of UNESCO World Heritage sites for its cultural and historical importance, and also for the geological uniqueness. It's not the cliffs themselves that make Ha Long Bay unique, but rather their sheer number. A huge bay, dotted with nearly 2,000 mostly uninhabited limestone cliffs, the breathtaking scenery makes Ha Long Bay both mystical and magnificent, an incredible feat of nature that almost never fails to impress.
DETAIL
Halong Tour One Day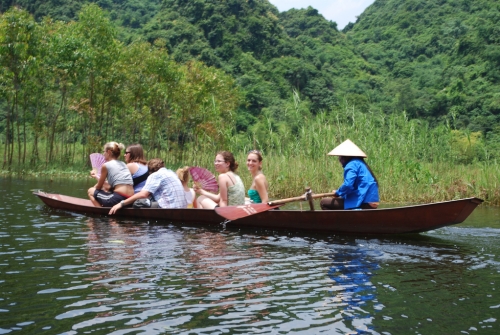 Perfume Pagoda One Day Tour
Chua Huong (Perfume pagoda) is located in Huong son (Perfume mountain) 70 km southwest of Hanoi. Chua Huong is not one temple but a cluster of temples and shrines in the general vicinity of Huong son. The pagoda(s) are located in My Duc hamlet in the province of Ha Tay former (Hanoi now). According to the book, Huong Son Thien Tru Pha, Huong Tich temple was built during the reign of Le Chinh Hoa (1680-1705), by a monk who happened on the site on his way to search for enlightenment. Other shrines and temples were later built in this area to take advantage of the beautiful scenery in this area.
DETAIL
Perfume Pagoda One Day Tour